Women have expanded their influence into businesses that no one could have imagined possible by demonstrating their strengths in various fields. One of those stereotypical male-dominated fields is finance. However, Shelley Nadel has overcome these societal mindsets by showcasing her expertise as a Certified Financial Planner™ professional and the resounding success of her company, Financial Success Strategies, which has made her an inspiration to many aspiring women business owners.
Shelley Nadel, a prominent entrepreneur, founded the company and serves as its principal advisor. She is dedicated to enabling professional women, their families, and small business owners to manage their personal finances with the same level of quality that they do for their jobs every day. She provides her customers with smart and thorough planning services that enable her to solve their financial concerns, including college funding, estate management, insurance, long-term care, retirement income accumulation and income, and company succession.
The Beginning…
Shelley Nadel confided to a close friend in her mid-20s, "I know I am supposed to do something important, but I have no idea where it is." She embarked on a complicated, 30-plus-year professional and emotional journey full of trial and error and false starts thanks to this simple yet profound realization that her life had a purpose, albeit veiled.
In 2007, she reached a turning point where her 32-year-old enthusiasm for volunteering could no longer support a draining and underpaid job. The rest is about how fate, divine guidance, or both brought her into contact with a MassMutual agent. The foundation for her independent planning company, Financial Success Strategies, was laid in 2016 after three years with a focus on insurance and five years at Wells Fargo Advisors where she earned her CFP® professional credential.
A Glimpse of Financial Success Strategies and Clientele
Financial Success Strategies was founded in 2016 to support people in creating effective retirement plans. Most of her clients are successful individuals, especially women, demonstrating her lifetime commitment to empowering and supporting women. Shelley Nadel is motivated to bridge the gap left by the financial services industry's historical failure to adequately serve the overall financial needs of women. Her business equips its customers with the necessary skills to achieve financial success and freedom, whatever form that may take.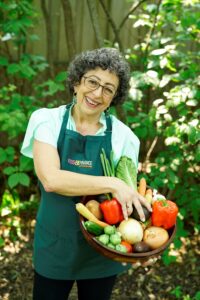 "Financial planning is rewarding, and I am good at it, but it wasn't enough. Then came the serendipitous event that finally revealed my elusive purpose. After teaching a fun online cooking class in January 2021 on a family favorite, Kosher Chicken Pot Pie, I casually mentioned the experience to some co-workers. From there, "Food and Finance with Shelley" was born. My patented financial literacy program, F&F, demystifies complicated financial ideas by relating them to cooking advice. "We now have a fantastic website (www.foodandfinancewithshelley.com) and YouTube channel thanks to a partnership with a Dartmouth sorority sister, and we actively work with businesses to enhance employee financial wellness," said Shelley.
Shelley Nadel acts as the head chef, who uses her expertise to create a customized financial plan for each client, much like a chef creates a unique recipe for each dish. The ingredients represent the different financial tools and strategies available, and Shelley combines them in the right proportions to create a perfectly balanced plan. Just as a chef must consider factors, such as dietary restrictions and taste preferences, Shelley takes into account each client's unique circumstances and goals.
The Key USPs of Financial Success Strategies
"Being a fiduciary and a CFP® are vital credentials but not enough. Clients come here starving for honest, straight-talking advice. They want an advisor who treats them like the intelligent adults they are–professionals who appreciate tough love rather than platitudes. They want leadership on all types of risk, not just the stock market, and someone who responds to their specific financial needs rather than using cookie-cutter solutions. Most of all, they demand an advisor who admits when they make a mistake, has a team of experts, and believes that the client relationship is a partnership, not just a series of transactions."
Unique in the financial services industry, F&F leverages Shelley's broad planning skillset with the opportunity to offer creative leadership in the financial literacy space. Financial apprehension prevents people from being financially curious, but F&F helps calm those anxieties casually and surprisingly. She uses everyday culinary tasks like baking homemade pie dough to personalize the financial experience, rather than anonymous pie charts with daunting and unhelpful economic generalizations. An attendee to one of her sessions said it best: "Shelley, you are memorable, and we HAVE to pay attention!"
Milestones and Achievements So Far
Shelley Nadel is proud to be an honest, sincere, and compassionate person who recognizes her responsibility to make the world a better place. Her parents instilled in her a heritage of service by upholding the Jewish ideal of "tikkun olam" or "repairing the world."
Shelley's sustained success in a sector where attrition is prevalent has given her a sense of professional pride. She actively encourages and validates her employees, works with tremendously gifted business partners, and is humbled daily by the clients' faith in the value proposition.
"Every step I've taken in my career has led me to an excellent place, and I am glad for the experience," the inspirational woman said. "As someone who chafes against the "corporate box," perhaps I should have gone independent from the beginning."
On a personal level, Shelley is proud of her 31+ year marriage, parenting three successful young people who practice tikkun olam daily, and having close friends who would sacrifice anything for he and the other way around. She also appreciates the chances she has had to positively influence her communities through leadership roles, fundraising, and mentoring as a lifelong volunteer.
The Future Outlook
Future plans include expanding FSS to a size where, through Food and Finance with Shelley, she can devote more time to educating the public, particularly women, on the importance of financial planning. That would entail hiring several extra advisors, planners, and administrative help, focusing on running lean. She hopes to empower younger, aspirational women who are prepared to embark on the entrepreneurial adventure alongside her and hire the best candidates for the job. The goal that had escaped Shelley for years is now obvious: she will devote the remainder of her working and retirement years to empowering women with the necessary skills to tear down the barriers they build around their finances.
Securities offered through Lion Street Financial, LLC (LSF), member FINRA/SIPC. Investment Advisory services offered through Lion Street Advisors, LLC (LSA) and Csenge Advisory Group. Insurance offered through Financial Success Strategies, LLC, not affiliated with LSF or LSA. LSF and LSA are affiliated companies and do not provide tax or legal advice. Representatives may transact business, which includes offering products and services and/or responding to inquiries, only in state(s) in which they are properly registered and/or licensed.